Whitepaper "Reducing Energy Use and Carbon Footprint of Open RAN Networks" published with Intel
October 31, 2023
The mobile telecommunications industry is increasingly prioritizing energy efficiency. Traditional single-vendor RAN solutions are giving way to Open RAN, a model that standardizes interfaces and separates hardware and software, enabling commercial off-the-shelf (COTS) hardware deployment. Enhancing energy efficiency by utilizing existing data center energy efficiency programs and by enabling dynamic adjustment of server pool sizes, requires continuous innovation from the Open RAN ecosystem members.
As a part of that ecosystem, we are proud that the white paper on reducing energy use and carbon footprint of Open RAN networks has been officially published. It is the outcome of a successful research project done together with Intel to profile the energy reductions of power-saving features using 3rd Gen Intel® Xeon® Scalable processors for Open RAN 5G centralized units and distributed units.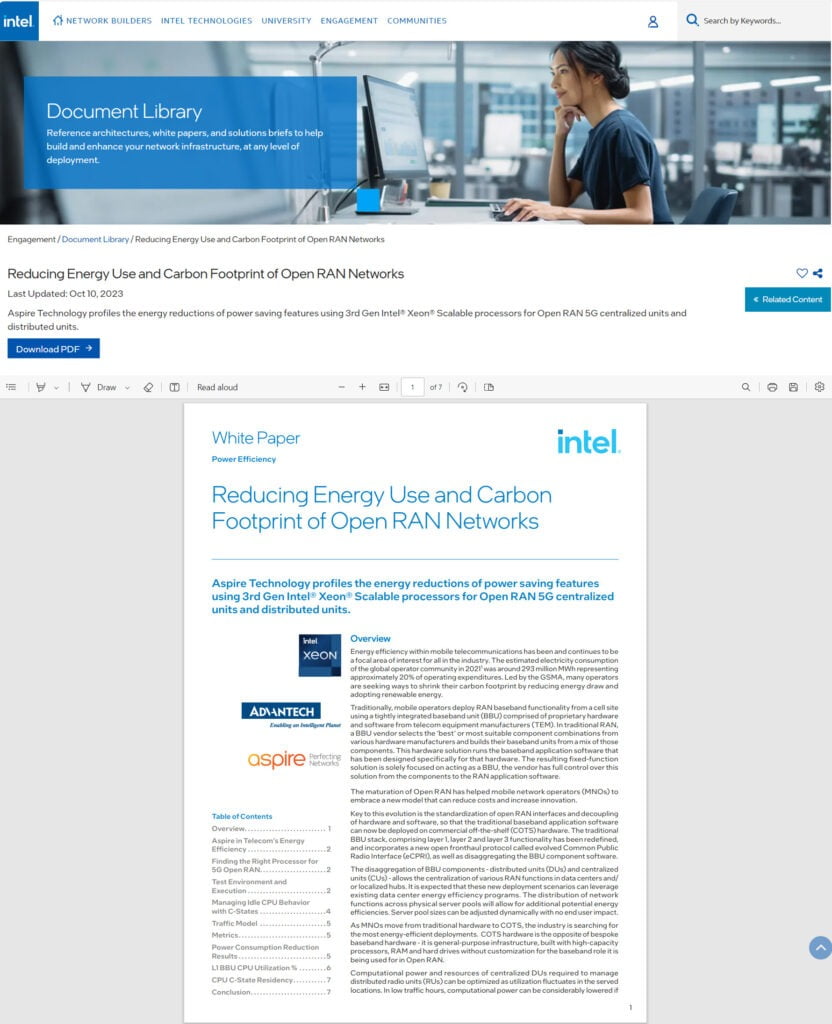 The whitepaper consists of:
Short description of state of energy efficiency in Open RAN

Aspire

'

s expertise within telecom's energy efficiency

Scope of the research

Description of the test environment and execution

Results (based on the following metrics: AC and DC power, L1 BBU CPU utilization and C-State residency)

Conclusions and areas for potential further study
The results showed that the use of deeper sleep states (C-states) does provide considerable energy consumption savings while running a DU-like workload on a 3rd Gen Intel® Xeon® based server. In the testing server, there was less CPU usr% utilization running the same workload as the baseline, indicating computer efficiency was improved with the use of C-States.
The whitepaper is published in the Intel® Network Builders solutions library and it is available publicly for download.
We congratulate Aspire engineers and project managers working on the project, Intel engineering and marketing colleagues, and many others who contributed to this complex and cutting-edge technology project. As we move forward, we remain steadfast in our journey of continuous innovation, driven by a passion for open solutions and a commitment to empowering network operators.